Are you a Houston homeowner dreaming of the perfect remodeled space but feeling overwhelmed about how to make it happen? Remodeling and renovating a home can seem like an intimidating, complicated task for even the most experienced DIYer. The good news is you don't have to tackle it alone and confused.
This comprehensive handbook will expertly guide you through the entire home remodeling process from initial planning to final finishing touches. With the right information at your fingertips, you can approach remodeling your Houston home with confidence and ease, avoiding missteps to create your ideal living space.
Let's get started;
Define Your Remodeling Goals
First, determine what you want to accomplish with the remodel. Do you want to completely reconfigure the layout to gain more space? Simply replace outdated elements for a style update? Add amenities like a home office or backyard deck? Identify your top priorities and must-haves so you can develop a remodeling plan to achieve them.
Set Your Remodeling Budget
One of the biggest factors in any remodel is the budget. Get quotes from contractors on the key projects identified in your goals to determine their scope and cost. Be sure to account for unforeseen expenses by adding 10-20% to your budget. Also factor in potential resale value increases from the upgrades. Setting a clear budget will keep your remodel on track.
Hire the Right Remodeling Contractors
Vet and hire licensed, insured contractors in Houston for your remodel projects. Look for those who specialize in your type of remodel, such as kitchens, bathrooms or additions. Check reviews, ask for referrals, and get at least three quotes for big projects. Make sure to check references too. Hiring the right contractors for the job will ensure your remodel goes smoothly from start to finish.
Update Kitchens and Bathrooms
Two of the most popular remodels are kitchens and bathrooms, as they provide a great return on investment. For kitchens, assess the layout, storage, appliances and finishes needed to create your dream space. With bathrooms, consider a walk-in shower, soaking tub, double vanity, and heated floors for a spa-like retreat. Meet with design-build firms to bring your vision to life.
Open Up the Floor Plan
One key way to transform your home is opening up the floor plan. Taking down walls between kitchens, dining and living areas creates a more modern, open feel. Consult engineers and contractors to determine load-bearing walls that can't be removed. Also consider adding skylights or vaulted ceilings to open up the space even more. Just be sure to add visual dividers, like islands between areas.
Upgrade Home Technologies
Integrate modern technologies into your remodel for convenience and efficiency. Smart home devices like voice assistants, smart thermostats and lighting can automate and control your home. Upgrade appliances to Energy Star models. Pre-wire for speakers, alarms and more. Install electric vehicle chargers in garages. A tech upgrade makes homes stand out.
Add Fresh Finishing Touches
From floors to windows, focus on interior finishes to give your home a stylish facelift. Replace worn carpet with hardwood or tile floors. Paint walls bold colors or install textured wallpaper. Swap outdated counters for granite or quartz. Install new lighting fixtures. Replace old windows with energy-efficient models. Finishings like these can modernize your home without major construction.
Improve Energy Efficiency
An often overlooked part of remodeling is improving energy efficiency. This includes adding insulation, sealing air leaks, replacing doors and windows, and upgrading appliances, lighting and HVAC systems. A more energy-efficient home lowers utility bills, reduces your carbon footprint and adds comfort. Be sure to check for local energy rebates too.
Enhance Curb Appeal and Landscaping
Curb appeal projects like siding, roofs, exterior paint, front doors and landscaping visually enhance your home. A fresh front door color makes a statement. New siding or stone veneer add texture. Solar roofs are energy savers. And a thoughtfully designed landscape ties it all together. Focus on projects visible from the street to get the most impact.
Add Major Additions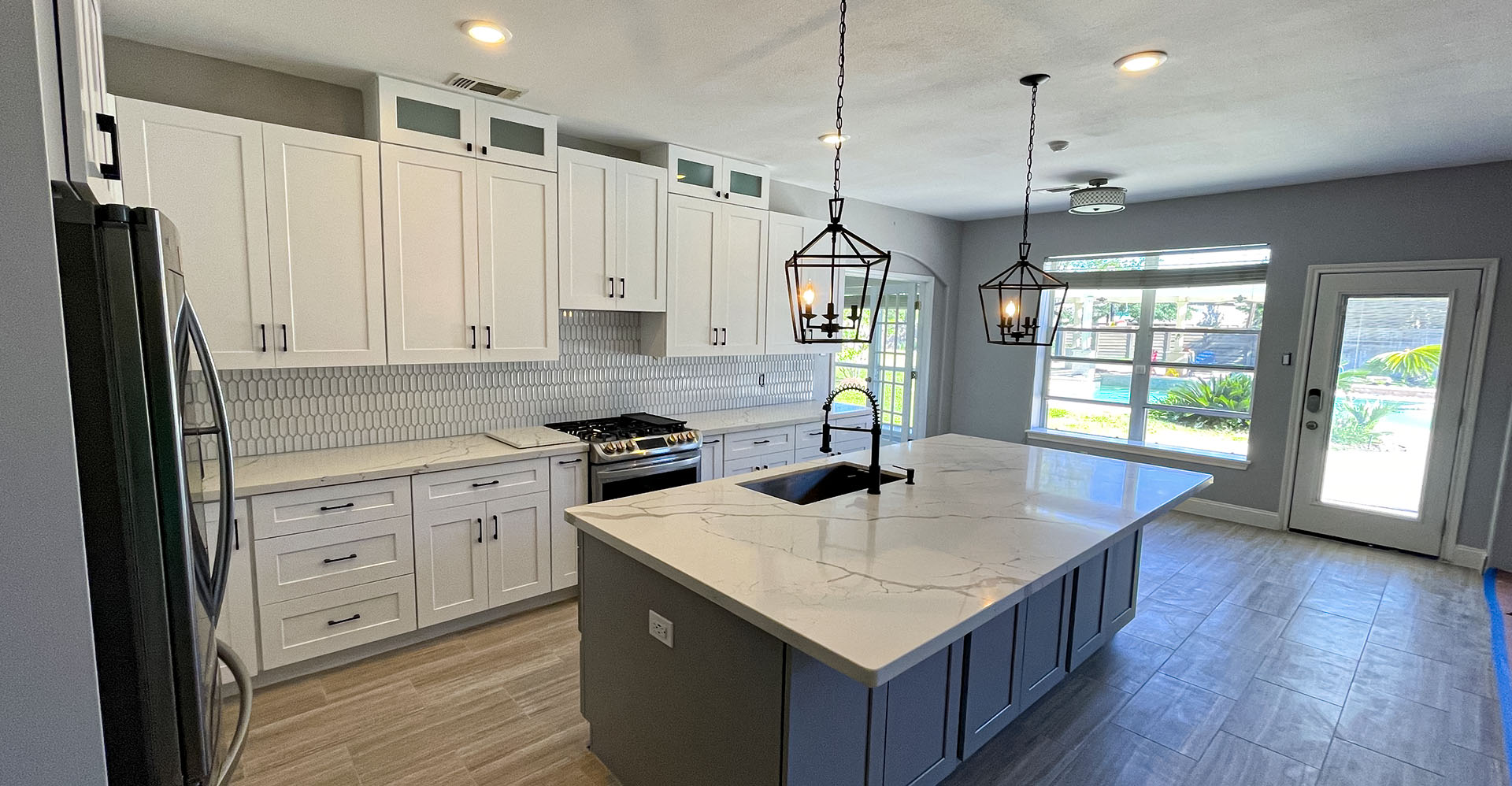 For significantly more space, add square footage with a major addition. Popular options are master suite additions, attic conversions or second story add-ons. You'll gain bedrooms, bathrooms, hobby rooms and more. Coordinate with architects and contractors to match the addition's style to your home. Adding square footage significantly boosts your home's value too.
Finish Basements and Attics
For more living space without expanding the home's footprint, finish basements or attics into usable areas. Basements can be transformed into recreation rooms, home gyms, home theaters or guest suites. Attics can become play rooms, offices or additional bedrooms. Just be mindful of having adequate staircases installed for access and safety.
Build a Backyard Oasis
Extend your home's livable space outdoors by remodeling your backyard. Add wooden decks or patio spaces for entertaining. Outfit them with kitchens, fireplaces and TVs. Install a swimming pool, hot tub or outdoor shower. Create zones like dining areas, firepits and gardens. Landscape with trees, plants and lighting. The right backyard remodel becomes a personal resort.
Consider Long-Term Needs
When remodeling, look to the long-term too. Age-friendly features like grab bars and lever handles future-proof your home. If you plan to stay in your home, make it as livable as possible. Easy one-story living, wide hallways and doors, and accessible baths increase convenience. These small changes make homes accessible through every stage of life.
Conclusion
There are endless possibilities when remodeling your Houston home. Define your goals, develop a budget, hire contractors, and tackle projects room-by-room to create your ideal living space. Focus on renovations that increase enjoyment, boost efficiency and add real value. With the right roadmap, you can remodel your home with ease.