QUALITY

INNOVATION

DESIGN


Houston's Leading Quality Renovation
Click the picture to look at our recent remodeling projects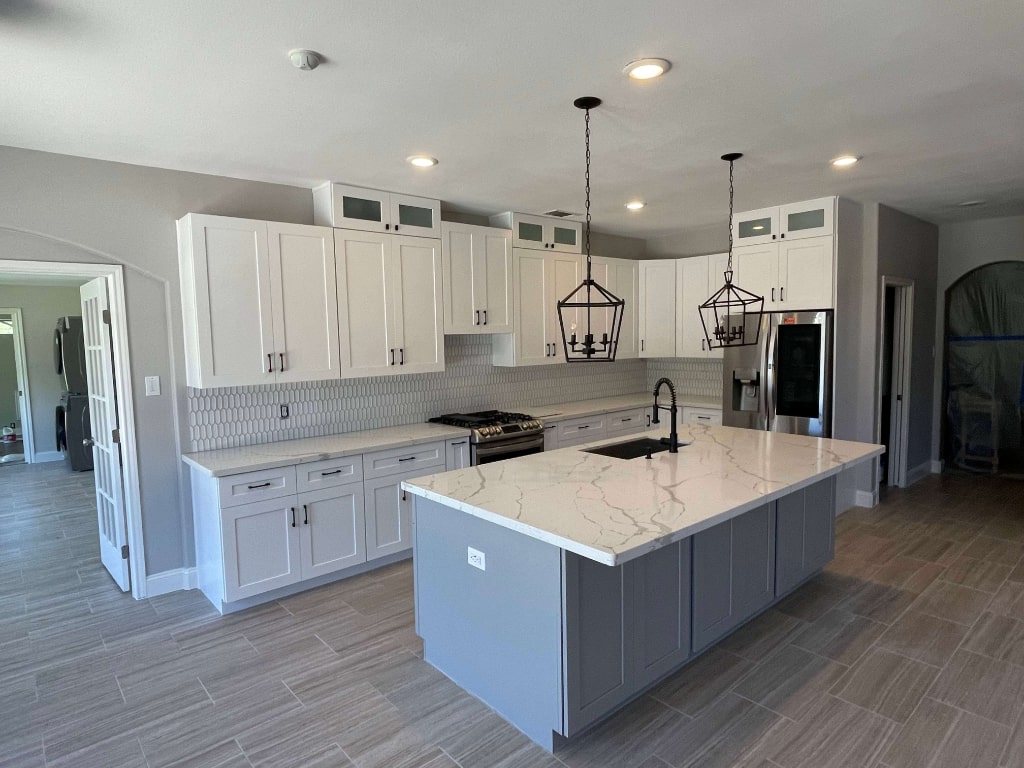 See Your Remodeling Design In 3D Using VR Technology

Mold Mitigation
Work Directly with Insurance Company

Mold Removal, Clean-Up, Dry-Out and Repair

Water Damage Restoration and Mold Remediation
Fire Damage
Work Directly with Insurance Company

Fire Damage Restoration (smoke and soot removal)

Fire Damage Repair, Demolition, Reconstruction
Insurance Claims
Fire Damage Insurance Claims

Water Damage Insurance Claims

Mold Mititgation Insurance Claims
Want to know how much your remodeling project will cost?

Fill up the form and get free quotation.
Kitchen Remodeling Houston
Ever looked around your kitchen and wished for a better kitchen? The kitchen area is an essential part of your house: you utilize it for food preparation, connecting with loved ones, and entertaining visitors. If the kitchen design Houston residents have already seen is not appropriate for your needs, it may be time for you to get a home renovation project. As knowledgeable contractors who provide kitchen remodeling Houston homeowners love, we have the best remodelers of Houston for renewing your kitchen design Houston people admire, and we will continually treat your house as if it was our very own.
Our mission is to provide you with the solutions that will serve the utmost quality kitchen remodeling Houston people admire, creating the kitchen of your dreams, just as you have always wanted! We will create a great room, one that suits your tastes and lifestyle, with our pro-designers, top-notch crafts folks, and installers. Households spend an enormous amount of time in their kitchens, along with thousands of working professionals. We help you to recognize your dream room by developing a space that best fits your needs, aside from how hectic and busy everything may seem. Regardless of your taste and style,  we can help you have a better understanding of your dream kitchen, no matter what your budget may be!
Maybe you think of your kitchen as a garden where you cook, a space where you gather, a space in which you dream together, or all of the above. We can help develop that room so it is modern, bright, efficient, and comfortable while staying within the financial budget that you have set. Do you want an all-inclusive kitchen remodeling or just an update? Some brand new kitchen cabinets, or a renovation of the appliance and seating areas? Let us assist you in no longer just picturing your dream kitchen, but actually experiencing it as a reality!
Remodeling Contractor Houston TX
Care-Kter Quality Renovations is your service contractor that you can trust to deliver impressive results for new construction, remodel, or maintenance projects. Whether you need help with your residential project, you have come to the right place, as our Houston contractors are always here to provide you with extraordinary results. Everything from our contractor's overall experience, their ability to follow a budget, and the completed results that they deliver are crucial. When you take a better look at our competent staff at Care-Kter Quality Renovations, you will see why we are the sole contractor that you have to employ for your future and current jobs.
To start your project with us, you first have to identify the rooms which require remodeling, and then determine how they flow together. Incorporating design elements that are similar to each area will be crucial for creating continuity throughout your house, which is important in cases where you wish to replace the style of your home. Together, we can complete a remodel that flows from each room to room. Next, you need to consider the adjacent areas and figure out whether it will impact them. When you develop an overlook of your task, call us to go over the details, and our expert Houston fireplace remodeler will go over our process.
Regardless of the task, our remodelers of Houston will make sure the outcome of your house renovation will provide you a room that you will proudly show your friends and family, which is why you can depend on Care-Kter Quality Renovations for providing full-service renovation and remodeling services that rewards you with both sensible functionality and excellent design. Driven by an experienced home remodeling team of painters, plumbers, electricians, framers, contractors, builders, and architects, we are well-suited to manage your task, regardless of the size, as we provide remodeling products for residential clients throughout Houston, Texas. Our team will always provide the remodeling contractor Houston TX homeowners love to finish the most challenging home remodeling projects. Since good interaction with our customers is the primary key to our success, your tips and suggestions are always welcome.
Home Renovation Contractors Houston
In the vibrant, ever-evolving cityscape of Houston, TX, home renovation is an art mastered by few. Among these select masters, Care-Kter Quality Renovations shines like a beacon of excellence. We don't merely renovate spaces; we transform them into timeless tapestries of comfort and style. Our passion for design, relentless attention to detail, and the impeccable execution of our projects have solidified our reputation as the go-to home renovation experts in Houston. 
As trusted home renovation contractors in Houston, we understand the unique blend of traditional charm and modern sophistication that defines Houstonian homes. Our team of experienced professionals is dedicated to crafting spaces that mirror this local flair, coupled with the individual personality of each homeowner. We endeavor to exceed expectations, delivering a seamless renovation experience that embodies the true spirit of home renovation Houston TX residents deserve. 
Embarking on a renovation in Houston, Texas, is not just about upgrading your home; it's about enriching your lifestyle and enhancing the bond you share with your space. At Care-Kter Quality Renovations, we pride ourselves on creating spaces that are as unique as the people who live in them. So, when you're ready to transform your house into your dream home, remember, there's no better partner for home renovation in Houston than Care-Kter Quality Renovations. Let us bring your vision to life with our perfect blend of creativity, craftsmanship, and Houstonian spirit.
Home Remodeling Contractors Houston
In the heart of Houston, TX, where the city's architectural panorama tells a story of elegance, charm, and modern sophistication, Care-Kter Quality Renovations stands as a paragon of home remodeling Houston. As a leading remodel contractor in Houston, we possess the expertise and vision to transform your residence into a haven of style and comfort. We delve into the essence of your home, creating spaces that not only reflect your personal style but also complement the distinctive Houstonian vibe. 
In the realm of home remodeling in Houston, we are artisans, painting canvases of comfort and luxury with a palette of creativity, craftsmanship, and a profound understanding of our clients' needs. Our team, a group of seasoned remodel contractor Houston professionals, is driven by a shared passion for designing spaces that are as functional as they are aesthetically pleasing. So, when you think of home remodeling contractors in Houston, think of Care-Kter Quality Renovations, your trusted partner in transforming your living spaces. 
As remodeling contractors in Houston, we are deeply attuned to the unique architectural ethos of the city. We blend this understanding with the latest trends in home design to create homes that are truly timeless. With each project, we set a new benchmark for remodeling contractor Houston, TX. So whether you're dreaming of a modern kitchen makeover, a luxurious bathroom upgrade, or a comprehensive home remodel, remember that with Care-Kter Quality Renovations, your dream home is within reach. Embrace the journey of transformation with us and discover a new definition of elegance in home remodeling Houston.
Home Remodeling Company in Houston
In the vibrant landscape of Houston, where architectural grandeur melds seamlessly with modern innovation, Care-Kter Quality Renovations proudly stands as one of the premier home remodeling companies in Houston. We are more than just a remodeling company; we are dream weavers, transforming houses into exquisite homes that reflect your unique style and the distinct character of Houston. As a trusted name in the remodeling industry, we bring a unique blend of creativity, craftsmanship, and customer-centric approach to every project. 
As one of the leading remodeling companies in Houston, TX, our commitment to excellence is demonstrated in every project we undertake. Our team of experienced professionals brings together a wealth of knowledge, skill, and passion for creating beautiful, functional spaces. We listen, we understand, and we implement – ensuring your vision is at the heart of our design process. When it comes to Houston remodeling companies, Care-Kter Quality Renovations consistently stands out, delivering projects that resonate with quality, elegance, and a touch of Houston's unique flair. 
Choosing a remodeling company is a significant decision, and at Care-Kter Quality Renovations, we understand the trust you place in us. We don't just remodel homes; we transform lifestyles. We infuse each space with a blend of comfort and luxury, ensuring every corner of your home is a testament to your taste. As a renowned remodeling company, we are committed to turning your dream home into reality with a seamless, enjoyable remodeling experience. When you choose Care-Kter Quality Renovations, you're choosing a partner that is as dedicated to your dream as you are. Experience the finest in home remodeling with us and redefine the way you live.
Home Remodelers Houston TX
In the vibrant heart of Houston, TX, where the architecture is as diverse and dynamic as the city itself, Care-Kter Quality Renovations emerges as a beacon of excellence among home remodelers. We're not just remodelers, we are artisans, meticulously crafting homes that radiate elegance and functionality. As a trusted home remodeler in Houston TX, we blend creativity and practicality to transform your living spaces into sanctuaries of comfort and style, reflecting the unique spirit of Houston. 
Our approach to home remodel in Houston TX, is holistic, with a keen eye for detail and a profound understanding of our clients' vision. We believe that a home is more than just a building; it's a reflection of who you are. It's this philosophy that drives us to deliver projects that go beyond remodeling, to creating a living experience that's uniquely yours. As home remodelers in Houston, we take pride in our ability to breathe new life into your home, creating spaces that are as beautiful as they are functional. 
When it comes to choosing home remodelers in Houston, Care-Kter Quality Renovations stands out for our commitment to excellence, craftsmanship, and unparalleled customer service. Our team of experts brings a wealth of knowledge and expertise to every home remodel in Houston TX, ensuring each project is a masterpiece of design and functionality. With Care-Kter Quality Renovations, you're not just getting a remodel; you're embarking on a journey of transformation that will redefine your living experience. Unleash the potential of your home with us and step into a world of elegance and comfort.
Sometimes, the work you are in need of is significantly larger, and creating an additional room is a much better option than moving and getting a completely new home! Whether your family is expanding or you are in need of upgrade plans, which have been in the works for a while now, creating a brand new space and adding onto a home may be  quite an adventure. We focus on designing a room addition Houston residents love, making them seem as if they were generally a component of the original house. The secret to a beautiful new room addition is making it feel as if it had been there from the very start, which is what our expert contractors will do when working on your home.
You will find many firms and contractors who can add a room to your home, but can they be trustworthy? Can they turn your home to a spectacular new level, and can they be the kind of business that is reliable for always being there if you call, never disappearing once the task is performed? These are the questions you have to ask yourself before employing a contracting and design firm to finish your additional project. When selecting our crew to complete your room addition Houston people can trust, you are choosing the right experts, artisans, and business specialists who take every task to be done correctly and satisfyingly. Call us now so we can start to build your dream home!